Electronics with the merits of flexibility and stretchability are changing our daily life. These technologies have already been applied in wearable sensors and commercial flexible displays. However, commercially available power sources, including thin-film batteries and supercapacitors, are oversized for these devices.
In order to fulfill the requirements of flexible electronics with multifunctional properties, one general strategy is to integrate energy harvester, energy storage units, and working units together as an all-in-one system on one substrate.
Recently, Prof. WU Zhongshuai from the Dalian Institute of Chemical Physics of the Chinese Academy of Sciences and Dr. LEI Weiwei from Deakin University reviewed the latest advances in micro-supercapacitor (MSC) powered integrated system for flexible electronics.
This work was published in Energy Storage Materials on July 15.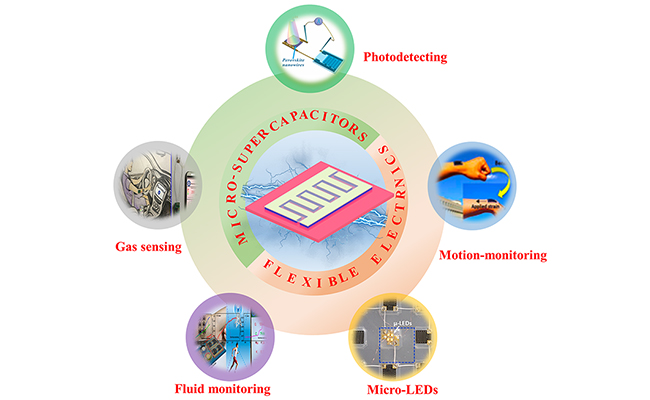 Micro-supercapacitors Powered Integrated System for Flexible Electronics (Image by ZHANG Liangzhu)
MSCs share a charge storage process via fast ion absorption/desorption or quick and reversibly redox reactions and are designed by in-plane structure, contributing to high power density, long-life span, and excellent integratablity. MSCs are considered as promising on-chip energy storage units for flexible electronics.
The scientists investigated the fundamentals of flexible MSCs including planar and sandwich configuration of MSCs, 1D nanomaterials, 2D nanomaterials, and 3D nanocomposites electrode materials, different kinds of gel polymer electrolytes, fabrication technologies, and performance evaluation metrics.
They reviewed the MSCs powered integrated systems for flexible electronics with multifunction of photodetection, gas sensing, motion monitoring, body fluid monitoring, and lighting micro-LED.
Moreover, they discussed the challenges and opportunities for industry manufacturing technology and practical applications of micro-supercapacitors based integrated systems.
This work was supported by National Key R&D Program of China and Dalian National Laboratory for Clean Energy of CAS. (Text by ZHANG Liangzhu)